Capstone Quick Start (General)
Key Capstone Presentation (Objectives , Strategies and Experience)
View Spring/Summer/Fall 2005 Projects Database
Project Management Quick Start
Sponsors Presentations Schedule ( Sep 13-14, 2005)
First Introduction Assignment (General)
Capstone Sponsors
In the spring 2005 semester, more than 50 project requests were made from more than 40 companies. This is the largest number of industry-sponsors in one single semester
Example of projects sponsors include but not limited to : McKesson, Honey Well, PSE&G, CIT, Saint Clair Health System , Johnson and Johnson , State of NJ governor's office , Newark public Library , Newark Housing authority , Rutgers university, National Guard , Buyers , NASA , NSF and tens of other businesses and research institutions
Clearly , sponsors and projects diversity demonstrate the broad array of interest in our capstone program . Projects dealt with many kinds of business problems and application areas from entertainment to finance to health to education to the public sector needs. The capstone program also offers strong support and training to students who wish to become entrepreneurs.
Additionally, our entrepreneurship well-supported track that evolved over the time generated at least 4 outstanding success stories.
This month' special photo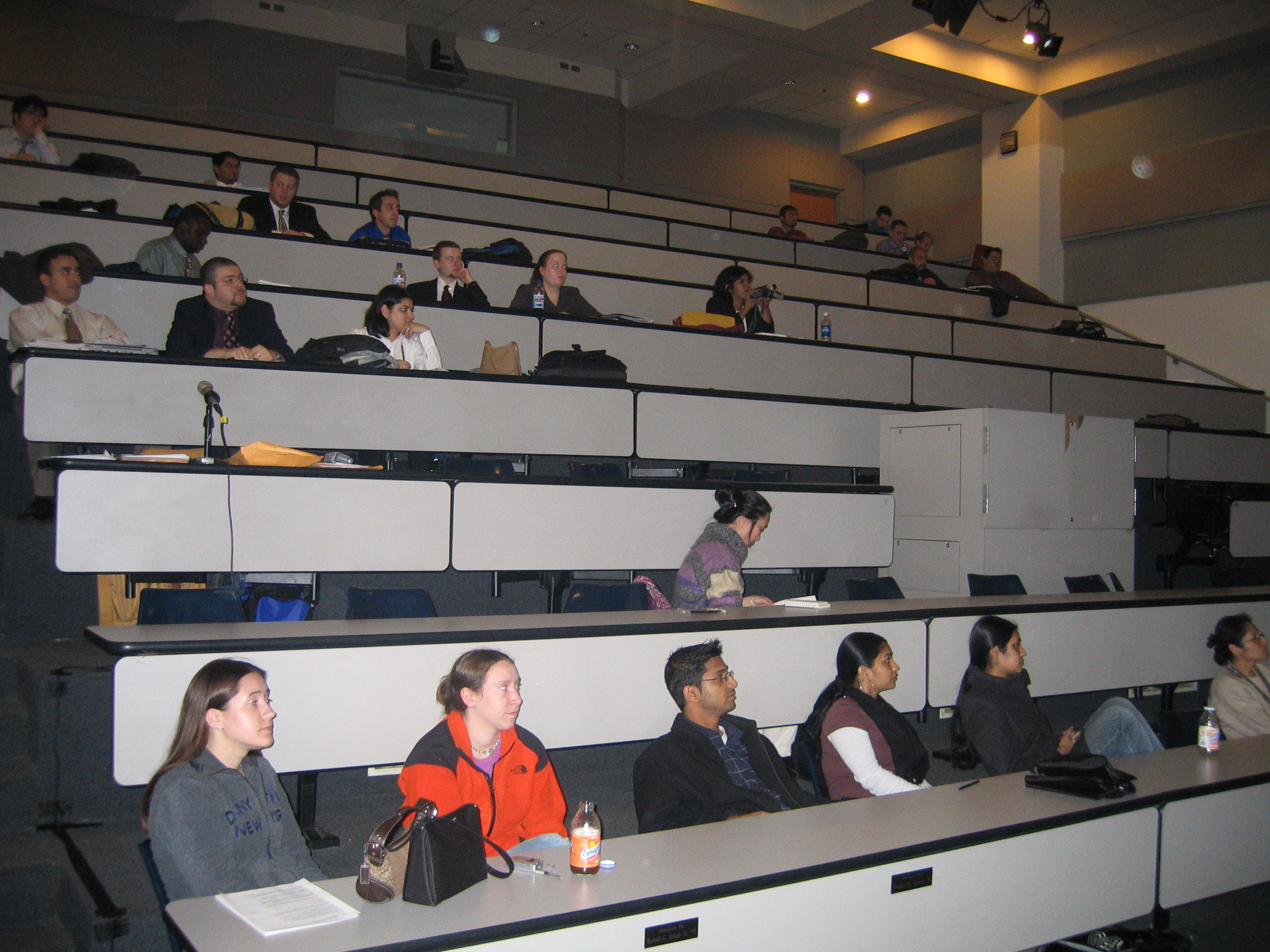 Capstone 2005 Students in Fall 2004 Presentations
View Capstone Showcase Nov30 Photos
Some Statistics
Progress in the Capstone program has demonstrated its value and expandability. In Fall 2002, the program had a total of 22 groups carrying out 22 senior projects. By Spring 2003, there were 34 teams in the core courses, 10 teams in an advanced curriculum and 2 supportive research teams. Of the Fall 2002 senior projects, 15 (or 68.2%) were externally sponsored. In the Spring 2003, 26 (or 76.5%) had external sponsors. Currently, 100% of capstone projects are sponsored (Internally and/or externally).
   After two years of the capstone experience, more than 200 teams have completed more than 122 full-scale projects and 200 semester-long projects in which many have multi-phases and some have involved multi-team structures. By the end of Fall 2004 , the capstone program was able to establish project-based relationships with more than 91 sponsors in which more than 82% are external business or organizations to NJIT .Our sponsors list include 6  Fortune 500 companies  , 51 medium to small to large  size companies across the tri state area , 8 sponsors from New Jersey  colleges and universities , 5 public services departments or agencies at the city , state or national levels  and 7 unique projects sponsored from NJIT faculty. We expect 35-40 teams (200 students) to be available for new projects by Spring 2005.